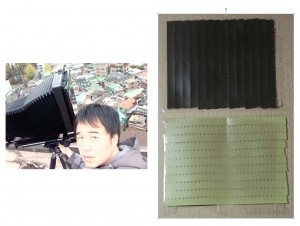 Seung Hoon Park, an artist from Seoul, S. Korea, is creating the most unusual images with the use of an 8×10″ camera and threading the film to mimick the look of woven textiles.
Seung Hoon Park uses both 8mm and 16mm films to create his work, each with a different outcome.
Many of his photographs are from Italy: Rome, Milan and Venice; Eastern Europe and most recently Mr.Park traveled to the USA where he photographed extensively in New York City!