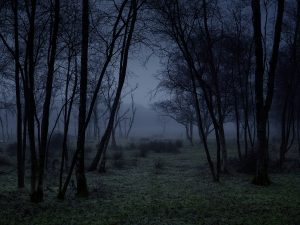 Ellie Davies was born in 1976 and lives in London. She works in the woods and forests of the UK. She gained her MA in Photography from the London College of Communication in 2008.
Davies was recently awarded Top 50 in the Barcelona International Photography Festival, First Place in the 2014 Kontinent Awards in the Fine Art Projects Category, First Place in the 2014 Art Gemini Awards, and two Honourable Mentions in the Moscow International Photography Awards 2014. She also received an Honourable Mention from the jurors of Inside Out 2014 at PH21 Gallery in Budapest, and was selected as a finalist in the 2013 London International Creative Competition. She was awarded an Honourable Mention in the Professional Women Photographers International Juried Exhibition 2012. Davies was selected for the Lens Culture International Exposure Awards2010, and received 1st Place in the Fine Art Landscape category of the 2010 PX3 Paris Photo Prize, The Exeter Phoenix 2010 Audience Choice Award, ArtSlant Showcase Juried Winner in 2010 and 2011, and Commended in the IPA Landscape Awards 2010.
She has recently been interviewed for Huffington Post, Slate Magazine, Cercle Magazine France, F-Stop, Mull It Over, Urbanautica Photo Stories, Two Way Lens, Fraction Magazine, and It's Nice That. She has been featured in Interior Design USA, Blow Magazine, Dodho Magazine, Doc! Magazine, Fraction Magazine's 50th Issue, Fuzion Magazine, Photo+ Magazine South Korea, Conscientious, Silvershotz, Lens Culture, Art Ukraine, Entitle Magazine, Le Monde Magazine , and The London Independent Photography Selected Artist Showcase.
Ellie Davies has been working in UK forests for the past seven years, making work which explores the complex interrelationship between the landscape and the individual. Our understanding of landscape can be seen as a construction in which layers of meaning that reflect our own cultural preoccupations and anxieties obscure the reality of the land, veiling it, and transforming the natural world into an idealisation.
UK forests have been shaped by human processes over thousands of years and include ancient woodlands, timber forestry, wildlife reserves and protected Areas of Outstanding Natural. As such, the forest represents the confluence of nature, culture, and human activity. Forests are potent symbols in folklore, fairy tale and myth, places of enchantment and magic as well as of danger and mystery. In more recent history they have come to be associated with psychological states relating to the unconscious.
Against this backdrop the artist's work explores the ways in which identity is formed by the landscapes we live and grow up in. Making a variety of temporary and non-invasive interventions in the forest, the work places the viewer in the gap between reality and fantasy, creating spaces which encourage the viewer to re-evaluate the way in which their own relationship with the landscape is formed, the extent to which it is a product of cultural heritage or personal experience, and how this has been instrumental in their own identity.
Source Material Credit: STScl/Hubble & NASA