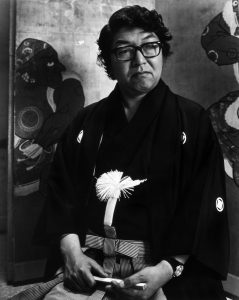 CHRONOLOGY
1933 Born,  the second son of a Buddhist priest, in Yonezawa, Yamagata Prefecture in Japan. Grows up in Tokyo.1947 Adopts the name "Eikoh" as a symbolic gesture to acknowledge the new era in Japan.
1952 Enrolls at the Tokyo College of Photography.
1956 First solo exhibition, An American girl in Tokyo, at the Konishiroku Photo Gallery in Tokyo.
1960 Yukio Mishima becomes interested in Hosoe's work. Directs an experimental film Navel and A-Bomb.
Mishima invites Hosoe to photograph him for the cover of his book, Attack on Beauty. Hosoe asks Mishima to continue posing for him. The result is the Barakei series.
Killed by Roses, a book on the Barakei series is published (Tokyo: Shueisha, 1962).
Gaudi's architecture has a profound effect on him.
1966 Participates in Ten Photographers exhibition at the National Museum of Modern Art, Tokyo.
Kamaitachi is published.
1970 Yukio Mishima commits ritual suicide while Killed by Roses is being prepared for re-publication.
Embrace is published.
1972-74 Meets Ansel Adams. Lectures and holds workshops in the U.S.
1975 Accepts professorship at the Tokyo College of Photography.
1977 Travels to Barcelona. Begins to photograph Gaudi's works.
1982 Discovers "Mini-Graphs" – test prints torn by hand and mounted on card.
1995 Becomes first director of the Kiyosato Museum of Photographic Arts.