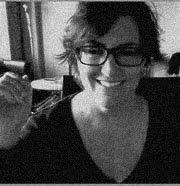 Danae Falliers is an artist, designer and teacher who loves color and uses it to create her bold abstract artwork which exemplifies the tension between photography and drawing; fast and still; and abstract and representational.
I'm interested in the borderline between photography and drawing; moving and still; pop and traditional; handmade and fabricated; color and material: psychological and spiritual; fixed and limitless; abstract and representational; potentiality and stasis.
My work is about the American landscape. I am intrigued by ideas of transience, transcendence, permanence, and memory. The images are reductive, highly manipulated, and abstracted. I explore the evolution of the perceived landscape, created in part by the pervasive acceleration of images – which has exponentially intensified, and dulled, our cognitive understanding of our environments. I believe that the sublime is still possible – and that it is still recognizable.
These images are fabrications, dreams, fantasies and memories of an idealized landscape. They are highly composited and manipulated and are impossible to experience or recreate. They can be read traditionally or conceptually.
I think of my current work as photographic / drawing. It is a hybrid technique that I have developed over time in the studio. In process it is rhythmic, repetitive and exacting. My printmaking process is collaborative with master printers. All my pieces are archival pigment prints, in very limited editions. The prints are lush and read like painting.
One of the newest series, STREET consists of condensing the imagery shot while being driven down major streets in New York City, Los Angeles and Las Vegas (Broadway, Fifth Avenue, Pico Blvd and Las Vegas Blvd)
And an ongoing love and interest for the artist is working with books and record albums. Be sure to see the series of Libraries on the website.