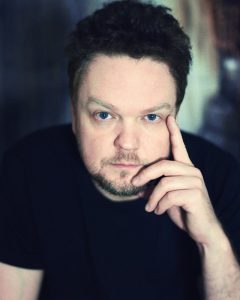 The Divergent Lands series is inspired by Chris' love of science in combination with his passion for photography. Chris is intrigued by the possibility of multiple or parallel universes and when combined with his unique vision the results are often mysterious and dreamlike.
Phantom is a series that explores dreams and the subconscious. I have always had a fascination with the subconscious mind, I am intrigued by the way fragments of dreams and reality intertwine to give birth to new thoughts and ideas. Phantom attempts to show, in photographic form, what some of my most memorable subconscious explorations look like.  Phantom showcases memories from brief encounters with people, animals and objects that I may have seen in a split second while conscious that have only resurfaced in my subconscious to become a permanent fixture in my images.
Chris was born in Edmonton, Alberta in 1976 and raised mostly by my grandparents and my uncle Joe, who was kind of like my big brother. I was heavily influenced artistically by my grandfather and my uncle.

My grandfather was a painter and a photographer among other things. I remember he was always doing something interesting in the garage—painting billboards and other commercial signage for local businesses. He was also into constructing model dioramas of certain railroad scenes from the 1940's and 1950's era.
My grandfather also had a really nice darkroom in our basement. I remember he would be in there for hours on end making prints from portrait and wedding shoots. The darkroom was usually off limits to me but there was this one time when I was around seven years old, and he let me come in to see what he was doing. I remember the smell and the little faint red light, he would say to me "whatever you do, don't open the door or turn on the lights."

That experience actually set the stage for me and what was to come in the future for my photography!
For his day job, Chris Kovacs is the publisher of two well respected on-line photography magazines, Adore Noir (black and white work only) and Adore Chroma, which features only works in color. For many years, Chris Kovacs was only known from his publishing successes, but I thought it was time that the public see and learn to view him as an accomplished photographer! I suggested that I interview him as an artist and that it be published in Adore Noir. He agreed.
The complete interview is here:
http://www.floze.ca/chriskovacsphotography/PDF/CKInterview.pdf