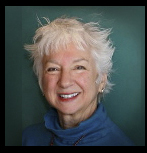 NEW WORK COMING VERY SOON!
New Work: CADAVRE EXQUIS
In merging photography with painting, portraiture with dreamed landscapes, technologies and generations, my images blur the boundaries between the real and the unreal, re-imagining worlds that, like our own, remain forever a mystery. I invite the viewer to look closely, to engage with me in an imaginative discourse, and to enter into a world of dreams and memory. The visual narratives of my photo collages dissolve the boundaries of time; they connect my fantasies and dreams with the generations that have come before me and attempt to bring them back to life. Perhaps it's my attempt to stop time.
Fran studied art and sociology at Brandeis University, received an MSW in psychiatric social work, and then an MFA from Boston University in graphic design and photography. She has held a succession of positions in the field of illustration and design: branding, print, and signage for corporate, arts, and retail establishments; CD-roms for books and museum installations; book cover illustrations; animations, multimedia, and web design. Until 2005, she was an Art Director at AOL Time Warner. Between professional life and raising two daughters, Fran continued to create her personal art, combining her illustrative and photographic skills with a passion for surrealism, paradox, illusion, assemblage, the non-human world, and the dislocations of time and place.
Fran is a Resident Scholar at the Women's Studies Research Center at Brandeis University and a recipient of several grants. She teaches digital collage at the School of the Museum of Fine Arts in Boston and recently at Brandeis University. Her work has been exhibited widely, both locally and internationally.
Fran's work is in the permanent collections of the Smithsonian National Air and Space Museum and the Museum of Fine Arts, Houston.